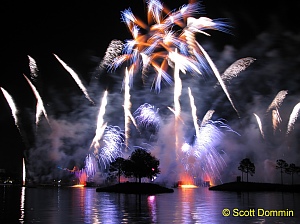 Image from AllEars.net
Inspired by episode 790 of
WDW Today
, I've been listening to music from various fireworks shows all night. And they've gotten me to thinking about all the amazing fireworks in Walt Disney World. Between Wishes, IllumiNations, and Fantasmic, you can hardly go anywhere without seeing fireworks at night (well, except Animal Kingdom, but I get it, animal safety), and fireworks have become such a huge part of the Walt Disney World experience.
First there's IllumiNations. This is my favorite of the three "nighttime spectaculars." The music is epic, the fireworks are epic, it's just an all around epic show. And I truly believe that it has the most repeat value. I can watch IllumiNations every night and never get bored of it. It's always amazing. This was the second Disney fireworks show James had ever seen on our trip in 2009, and after seeing Wishes the night before, he was blown away by IllumiNations. I mean Wishes is good, but for a big fireworks fan like him, IllumiNations is awesome. Plus the boats go on fire! Plus the IllumiNations dance party preshow music! Seriously, you can't go wrong here.
Next there's Fantasmic. Fantasmic and Wishes may be tied as second favorite because I both like them for such different reasons. It's really hard to compare. Plus Fantasmic loses some points because it's so hard to get in to see it. This past August was my first time ever seeing Fantasmic. I had tried so hard the year before, but it rained out. Honestly, this year it was worth the hour long wait in the heat, even if I was way closer than I ever wanted to be to 5000 of my closest friends. When it ended, all James could say was "that was awesome!" But personally it probably doesn't have the repeat value that IllumiNations has for me. Even if I could walk right in and get a perfect seat, I'm not sure I would want to see it every night. One awesome thing about IllumiNations is that you can watch it from all around World Showcase lagoon. For Fantasmic, you have you purposefully walk alllll the way down to the theater. And even though the show is epic, the story is epic, and Mickey, of course, is epic, it just doesn't match up to my classic favorite of IllumiNations.
And finally, Wishes. There's something so quintessentially Disney about Wishes that I just can't truly rank it below Fantasmic. IllumiNations has the fireworks, Fantasmic has the story, but Wishes really has the Disney factor. It feels so magical, and it gives me the chills even just listening to the music. The fireworks are absolutely spectacular, but there's something about ending your night in front of the castle that makes you truly believe all your wishes will come true. And that fact is why I, as well as so many other people, love Wishes.
What are your favorites of the three fireworks shows? Do you agree or disagree with my opinions? Let me know what you think in a comment, on Twitter (@discollegeblog), or on Facebook!