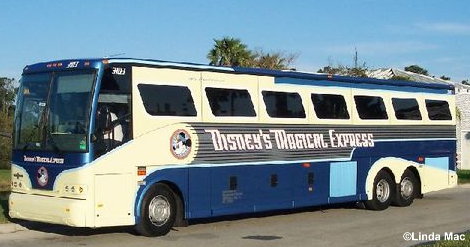 People in college who are planning trips to Walt Disney World often come across a road block quite early: you must be at least 25 years old to rent a rental car. Luckily, Disney's on our side with this one; they've created Disney's Magical Express.
For those of you who don't know about it, Disney's Magical Express (DME) is a service that transports you from Orlando International Airport to your resort on Walt Disney World property... for FREE! I know, right? I've used DME once before, and I plan on using it on my upcoming trip in August. It is really a godsend for us college students, but there are some things you should know about using it.
First, you must book DME; Disney won't just know that you want a ride, and you can't just show up. The booking process is easy but important. You have to let Disney know that you want to use this service. However, you do not have to use DME both ways. If for any reason you just want a ride from the airport to your resort or vice versa, that's perfectly okay. Just book DME one way. Also know that this service is only available from Orlando International Airport (MCO) to a resort on WDW property and vice versa. You can't get DME from/to any other airport or from/to any non-Disney hotel.
Conveniently, Disney will take your bags to your room for you, and you won't have to see them from when you check them in at your home airport until they arrive at your room. BUT it is important to note that they only do this on flights between 5:00 am and 10:00 pm. If you have a very late or very early flight, you can still take DME, but you will have to get your own luggage from baggage claim before you board the bus. Also keep in mind that if DME does take your bags for you, it may be several hours until they arrive at your room, so plan accordingly.
Finally, on the way home, some airlines allow you to check in to your flight at the resort. You will receive your boarding pass, and your bags will be checked for you. Check with Disney if your airline participates in this service as the list is everchanging. Also keep in mind that, no matter what, DME will pick you up from your resort approximately 3 hours before your flight (you'll find out the exact time towards the end of your stay, and it may be earlier for international flights). This may sound inconvenient, but it's really for your benefit. Also know that you must get on your assigned bus on the trip back to the airport, as there is a specific list of people. You cannot try to get on a later bus because they might not have room for you.
Overall, I really like DME. To me, it's like my vacation starts as soon as I step on the bus. On the drive over to Walt Disney World, they play a video highlighting different parts of the resort, and it really gets you in the Disney mood. The only downfall is that it may take a long time to get to your resort as multiple different ones may share the same bus. I don't mind it too much, though, because it's kind of cool to see the outsides of different resorts. Also, I don't have much of a choice, seeing as I can't rent a car. And Disney's Magical Express is way better (and free-er!) than taking a taxi.
And now, like usual, I'd like to hear from you! Do you take DME? Do you rent a car? Are you like me and have no choice? How do you feel about this free service? Let me know in a comment, on Twitter (@discollegeblog), or on the Disney College Blog fan page!
This post is part of the fourth DisMarks.com Disney Blog Carnival. Click the link to see more great Disney articles!